January 28th - February 10th
The Proposal
During my 2017 summer at home in California, before my final semester of college at UH Manoa, my grandfather came to me and asked if I was interested in going to Kenya with him and my grandmother in 2018. It was to be my graduation gift from them.  I heard about his previous trips with my uncle and cousin, but never thought about going myself.  I didn't jump at the opportunity of the trip to Kitale, Kenya at first - it took me a few weeks to make a decision. I knew that it would be a lot of preparation (immunizations, disease preventative medications, camera prep, etc), many hours in an airplane, and not-the-most-comfortable accommodations once we reached our destination. But I also knew that an opportunity like this wouldn't present itself again, and the experiences & perspective I would obtain whilst there would be incredible. My grandfather has a water project that constructs wells in remote villages to bring people clean water, which was to be one of the main focuses of the journey, in addition to spending time with Sister Freda and her hospital, and seeing children in various facilities across the Kitale region - with a game drive in the Maasai Mara at the end of the trip.
January 28, 2018: Los Angeles -> Amsterdam 
From sunrise to sunset, the aerial views along the 11 hour flight from Los Angeles to Amsterdam were unbelievable.
January 29, 2018: Layover in Amsterdam 
My first taste of Europe came with our long layover in Amsterdam, Netherlands. We left the airport and got a hotel room in the city to store our bags and freshen up in. It was gloomy, windy and frigid outside but we walked around the canals, saw the amazing architecture and grabbed some street chips to eat along the way. It was a nice break in the travel; as we had another 9 hour flight ahead of us.
January 30, 2018: The Drive from Nairobi to Kitale
After landing in Nairobi...
Our driver Denis picked us up in his Toyota Land Cruiser, loaded up the luggage, and hit the road for a long 8 hour, traffic ridden drive from Nairobi to Kitale. I slept for about half of it, but we stopped along the way and saw some incredible views.
January 31, 2018: A Day at Sister Freda's
Our first day in Kitale was spent with Sister Freda, an individual I heard so much about. She welcomed us onto her compound, presented us with gifts, and gave us a tour of all the facilities on her property. There is a feeding program, pre-school, kindergarten, girl's high school, nursing college and hospital. For more information on Freda and what she does follow this link: http://www.sisterfredafoundation.org/  
We visited the young children while they were in school, handed out lollipops and enjoyed each others' company. They sang us a few songs and liked having their photos taken, laughing when I showed them how each shot turned out. 
Inside of one of the hospital rooms, there was a mother who just had a C-section the day before. My grandmother presented her with a blanket and outfit for her newborn. Across the room was another young baby who enjoyed having her photo taken. 
February 1, 2018: Stuck in Bed
Unfortunately, I spent this day bedridden at the Kitale Club. The anti-malaria medication I was taking was having a heavily negative impact on me. Nausea, dizziness, fatigue, lack of appetite and energy, stomach issues - these were the side effects I was experiencing while on them. So Freda brought me alternative medication and I stopped taking the previous ones. After the switch, I felt much better, was able to eat again, and carried on with the trip as planned.
February 2, 2018: A day with Ben: the Man Behind the Wells
This day was spent with Ben, the man who is in charge of physically constructing the wells that my grandfather funds. We met at the Kitale Club in the morning, and all hopped into the Land Cruiser. He brought us to his home in Rafiki where we met his wife and youngest son. We drank cocoa inside the beautiful, multi-colored house, then drove around the Kitale region looking at previously constructed wells, in addition to potential new locations in areas that are in need of clean water. 
February 3, 2018: The Girl's High School at Freda's Compound
Our only plan this day was to visit the private all girls high school located within Freda's property. We arrived and met with the principle and her assistant for a bit. Afterwards, they took us outside to the courtyard where some of the girls were seated in rows waiting for us. We made introductions, then a group of girls did a dance performance. Next, a girl performed a poem - an original I believe. And finally, another girl sang us a gospel song. The assistant principle then showed us around the facilities, and we were on our way. Afterwards, I flew the drone around the compound shortly and took a few photos. 
Sunset across the golf course at the Kitale Club later that evening. Shot on my Olympus Pen EF 35mm camera, and Kodak 400 color film.
February 4, 2018: Morning Walk at the Club & A Visit to Precious Kids
Sunday morning the grandparents and I walked across the golf course at first light. We saw plenty of monkeys doing their thing amongst the trees. Afterwards we went to a church service with Freda at a nearby church. We arrived an hour late to the service, around 10am, and it ended a little after noon. Freda took us to a nice lunch at a rooftop restaurant in town, then returned to the club for a rest. In the afternoon we visited Sammy at Precious Kids, the organization she started for orphans, some of which with disabilities. It was an incredible experience, and the children were so friendly and open to visitors.
Denis, Sammy & their son Zion at Precious Kids Center.
Samuel Barasa / DOB: 2007 / Medical Condition: Dwarfism
Moses Zawadi / DOB: 2009 / Medical Condition: Cerebral Palsy
Preparing and cooking hundreds of pieces of chapati for the children to eat.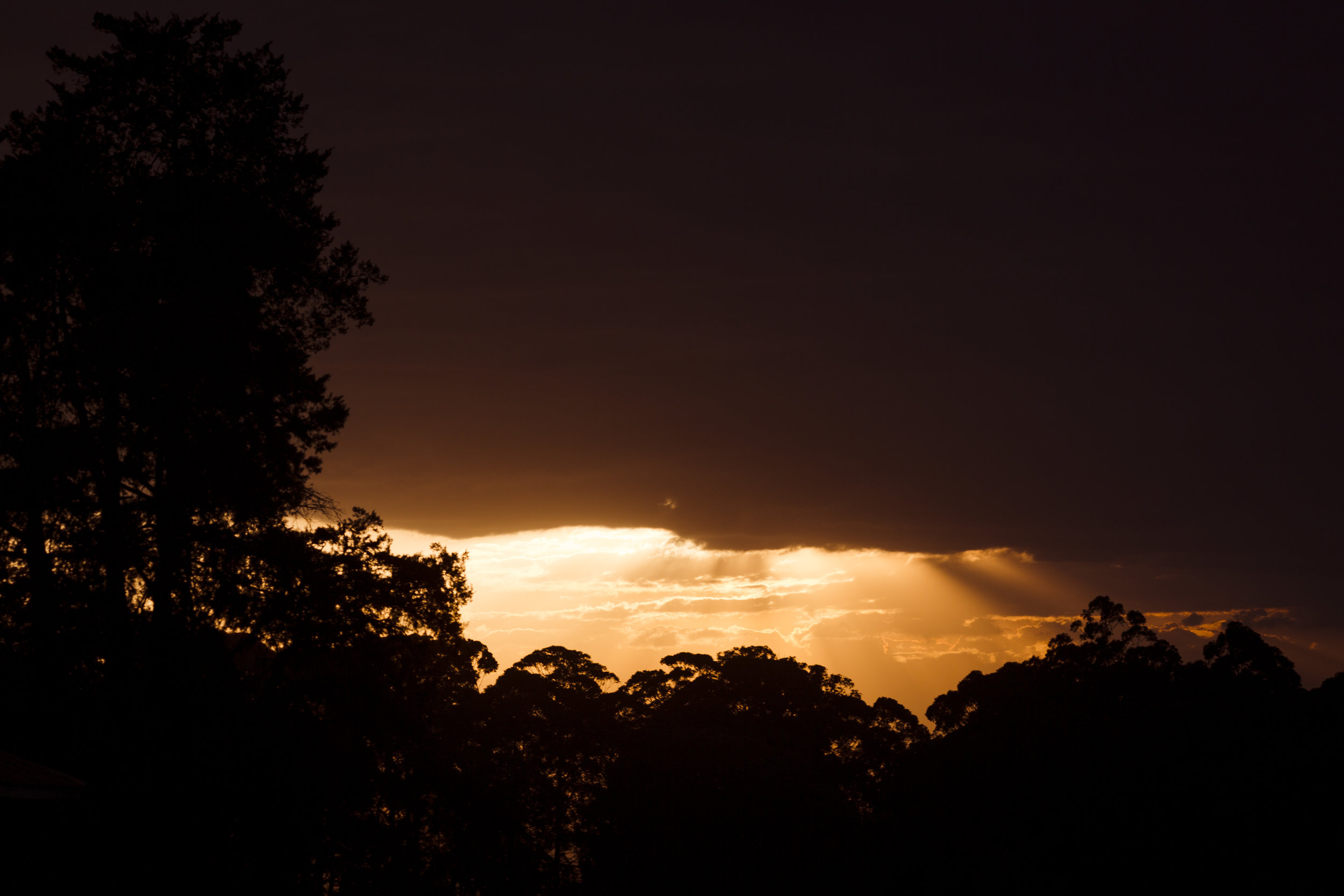 with dinner at the Kitale Club as the sun went down across the horizon.
February 5, 2018: The Drive to Emmanuels - West Pokot
The drive to West Pokot was no joke. We left the club early and began the trek. It was only about 2.5 hours one way, but the majority of the roads weren't very road-like. A lot of off-roading in the Land Cruiser with tons of dirt, the windows up, and plenty of sweat. But we went out to visit Pastor Emmanuel and see two wells that my grandfather funded. After the long drive, we arrived at Emmanuel's, got out for a few minutes to look at a well, then got back into the car for another 45 minute, bumpy ride. We pulled over at a dried up river bed, and a group of men greeted us and walked us about half a mile to the well. There was a large group of local people surrounding it: men, women, children and goats. Most of them didn't speak english, and I wouldn't be surprised if we were some of the first white people that those kids have seen, but they were welcoming and friendly. After visiting the well, we all walked back to the truck and handed out lollipops. We headed to Emmanuel's house for a quick visit then made the tiring drive back to the Kitale Club. We made a pit stop along the dusty road, underneath a tree and ate our packed lunch: PB&Js, potato chips & tangawizi (ginger) cookies. 
February 6, 2018: Rafiki Medical Clinic with Sister Freda
Tuesday was dedicated to helping Sister Freda with the medical clinic at a church in the village of Rafiki. We mainly helped by packing various types of medicines into small pouches for individual distribution to patients. I filmed this day with the intention of making a short documentary about how and why Freda does these weekly medical clinics. 
February 7, 2018: The Long Drive from Kitale to Maasai Mara
With our work and visit in the Kitale area concluded, we left for the Maasai Mara for some game drives before heading back to the states. The drive from Kitale was about 9 hours. We stopped at a tea country club along the way in the tea farm area. There was so much tea being grown it was incredible to see. The entire day was dedicated to getting to the camp - Sarova - and resting until the all day game drive the next day. There was some beautiful scenery to see along the way, and once we arrived our accommodations were quite luxurious. It was a "tent" camp but it was the nicest, most comfortable glamping I've ever experienced. 
February 8, 2018: Maasai Mara Game Drive Day 1
This was an epic day. We spent the majority of it driving throughout the mara seeing animals. We saw three of the big five: lions, elephants and buffalo; however we didn't come across any rhinos or leopards. It was crazy how close we could get to them - a pretty unreal experience. Denis communicated with other drivers around the park via radio in order to find where certain animals were located. He said that they have their own secret word bank for animal names, different than english and swahili, so that people in the vehicles don't get too excited or anxious about seeing animals they are talking about. I was frothing on the images I was able to capture throughout the day. 
February 9, 2018: Sunrise on the Mara & A Visit to the Maasai Village
I met Denis before sunrise for an early morning game drive. The sky filled with pink and purple as the sun crept over the distant mountains. We saw a lioness mother with her two cubs, as she attempted to hunt a warthog. She was unsuccessful. She also came into close contact with a younger elephant, but made no attempt to approach it. We returned to the camp for breakfast, and all of us left shortly after. On the way out of the Mara we visited a Maasai Village. They taught us about their people, home structure and performed dances and sang to us. It was an entertaining & interesting end to our Kenya trip. We left their village and headed straight to Nairobi where we awaited our midnight flight to Amsterdam.
February 10, 2018: The Flight Home - Amsterdam to LA
On our final leg of the journey home, we flew over the Canadian Rockies. The view was ridiculously beautiful, as I snapped some photos out the window. 
Conclusion
This trip was such a blessing & amazing opportunity that I would like to thank my grandparents for including me in. Never would I have planned to go to Kenya on my own, but with their help and generosity it was made possible. I'd like to return one day and revisit the friends I made whilst there. I hope you enjoyed the images I captured as much as I do, and can see the emotion and stories that the people of Kenya portray in their portraits. Cheers!